Vuvuzealots
Jan 10
The Murky History of Foosball -
In the best tradition of skulduggery, claim and counterclaim, foosball (or table football), that simple game of bouncing little wooden soccer players back and forth on springy metal bars across something that looks like a mini pool table, has the roots of its conception mired in confusion.
Jan 09
[video]
Jan 08
[video]
Jan 04
Me lose brain? Uh-oh! Research suggests soccer players repeatedly using headballs may deplete gray matter
Jan 03
Milan friendly stopped after racist chants -
BUSTO ARSIZIO, Italy — AC Milan players walked off the field because of racist chants, abandoning an exhibition match in the first half with lower division club Pro Patria on Thursday.

The game was interrupted and later ended because of chants directed at several black Milan players, despite appeals to stop from the public address announcer.

After repeated chants directed his way, Ghana midfielder Kevin-Prince Boateng picked up the ball and kicked it at a section of the crowd in the 26th minute of the first half.
Dec 17
Zenit St. Petersburg fans support racism in the name of tradition -
MOSCOW — Fans of two-time defending Russian champion Zenit St. Petersburg are calling for non-white and gay players to be excluded from the team.

Landscrona, the largest Zenit fan club, released a manifesto Monday demanding the club field an all-white, heterosexual team. It added that "dark-skinned players are all but forced down Zenit's throat now, which only brings out a negative reaction" and said gay players were "unworthy of our great city."

"I can personally assure you that I will do everything I can to help those who seek to explain to people what tolerance is, and the need to respect other cultures and traditions.

"

— Zenit coach Luciano Spalletti

The club quickly sought to distance itself from the fans. Without directly referring to their manifesto, Zenit's coach, Luciano Spalletti, said in remarks posted on the club's website that "tolerance for me is most of all the ability to understand and accept differences."
Nov 23
More than a club: FC Barcelona and Catalonia's road to independence – video
Nov 22
Time for Neymar to head to Europe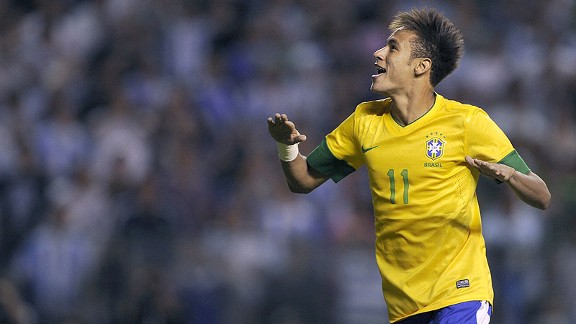 "The background here is that over the last 25 years almost every big-name Brazilian player has been lured across the Atlantic, which has come as a blow to national pride.  After every disappointing performance from the national team, the call has usually come for more home-based players to be selected – the very players who, six months later, are then also transferred to Europe. 

So far, Neymar has bucked the trend.  He has become a symbol of the new Brazil, the emerging power growing in confidence and economic strength.  The country's development is exemplified by the fact that there is enough money around for Neymar to receive a European-style salary. "
(Source: ESPN)
Nov 20
Fantasista 2013 Exhibition: group of talented artists celebrate the beautiful game
In Belgium, an Old Quarrel Gets a New Slant
"Since 1979 we've had a survey of how Belgian people feel," De Winter said. "The Walloons have always felt Belgian, the Flemish hadn't. That shifted in 1986 in the Flemish community: a jump in 15 percent from feeling Flemish to feeling Belgian. There was no other event in that period that might have triggered it."
(Source: The New York Times)
Nov 19
The Bhoys: Mod Rod and Rocket Man
(Source: The New York Times)
Star of David, For Entertainment Only
"In 2005, Ajax made a concerted effort to try to distance itself from the Jewish image. (Among other things, it stopped making a "Hava Nagila" ringtone available for download on its website.) Why? Because the quasi-cultural identification had been adopted by its hooligans, some of whom draped themselves in Jewish symbols when fighting with other fans or the police. What's more, whenever Ajax faced teams with supporters with far-right tendencies, it faced a barrage of anti-Semitic abuse, including chants of "Hamas! Hamas!" and hissing meant to emulate gas chambers. The club's campaign had limited success."
(Source: The Wall Street Journal)
The Football Lab that Arsenal hope will create a new generation of stars
"The player stands in the centre and must pass the ball off whichever rebound board is flashing in the quickest amount of time. It's a real test of reactions, agility and passing accuracy.
And to add to the space age feel, every movement of player and ball is mapped by the sensors, with the data instantly available to download to an iPhone app."
(Source: Daily Mail)
Nov 01
[video]
Oct 25
Players of the local Voukefalas soccer team wearing T-shirts displaying the logo of their sponsor "Soula", a luxury brothel, prepare for a soccer match in the city of Larissa about 320 km (200 miles) north of Athens October 20, 2012. 
REUTERS/John Kolesidis